Bromide Ion Selective Electrode (ISE)
If you're looking to accurately measure Bromide ion concentrations in aqueous solutions, look no further than NT Sensors' own Bromide Ion Selective Electrodes (ISE).
Our advanced nanotechnology research has allowed us to create high quality, reliable, and affordable electrodes that provide fast and accurate results.
Our Bromide ISEs are perfect for a variety of applications where Bromide levels need to be determined, such as in environmental testing, pharmaceutical analysis, and food and beverage industry and water quality control. With our ISEs, you can trust that you're getting the most precise and reliable results possible. In addition to their accuracy, our Bromide ISEs are also designed to be easy to use and convenient.
Simply add a small sample of your aqueous solution to the electrode and within seconds, you'll have your results. Plus, with dry-storage and a long shelf life, our electrodes are an ideal solution for all your Bromide ion measurement needs.
SPECIFICATIONS
Range (concentration): 0.4 to 8000 mg/L   /  5×10-6 to 0,1  (mol/L)
Reproducibility (precision): ±10% of full scale (calibrated 10 to 1000 mg/L)
Interfering ions: Cl – , OH – , The presence of Ag+or S2- ions, leads to unreliable results. CN – and I – ions must be absent or in negligible quantities respect Br – ion to measure properly.
pH range: 1 to 12 (no pH compensation)
Temperature range: 5-50ºC (no temperature compensation)
Electrode slope: 54 ±5 mV
Electrode resistance: 1–4 MΩ
Immersion minimum: 2 mm (without the protective cap)
Body diameter: see different sensors
1
Mini ION Bromide
Nano 2.5: Miniature electrode for Bromide
Nano probes that are ideal for research applications or ultra-low volume purposes. Capable to work in al positions (vertical, horizontal, upside down).  In addition, the carbon nanotubes provides the real miniaturization. Moreover, retaining good performance in terms of ease of use and robustness of operation.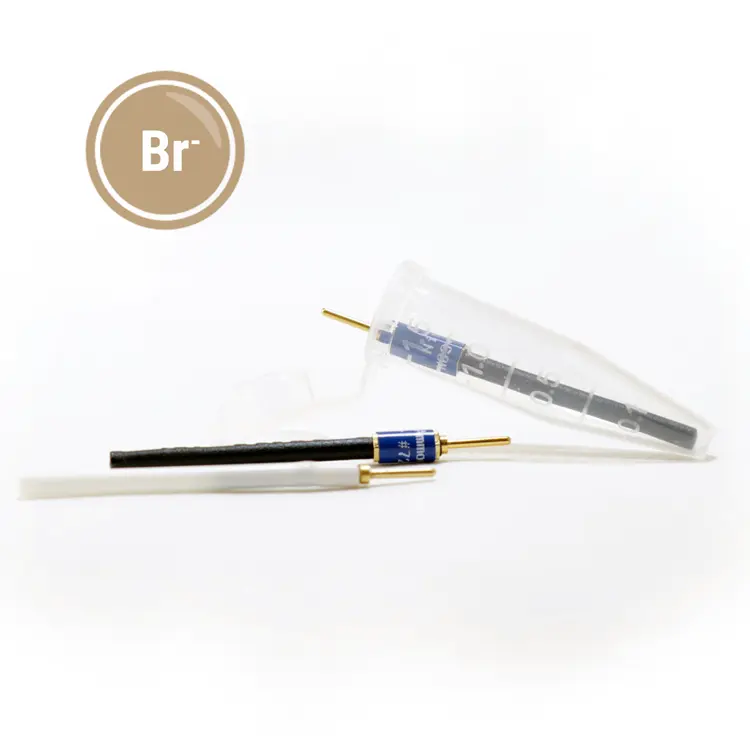 REF: M018
Diameter: 2,5 mm
Minimum sample volume: 0,25 ml
More information about Nano 2.5 electrode