Ammonium Ion Selective Electrode (ISE)
Use ammonium ion selective electrode (ISE) to measure the NH4+ ion in aqueous solutions.
Ammonium ISE is a half-cell probe, and is able to detect ammonium ions. This type of ISE is all-solid state, based on the carbon nanotube technology. As  result, this sensor is built-up with robust body, solid-state and membrane selective area. Ammonia ion selective electrode is compatible for use with any Ion or mV meter and a reference electrode.
Above all, the ammonium sensor is ideal for measuring NH4+ concentrations in drinking water, tap water, wastewater and general water quality applications:
Unique solid-state sensor nanotechnology inside.
Requires virtually zero maintenance.
Provides fast, stable, and accurate response in a variety of sample types.
Replaceable sensor tip.
SPECIFICATIONS
Range (concentration): 0,09 to 9000 mg/L  / 5×10-6 to 0,5 (mol/L)
Reproducibility (precision): ±10% of full scale (calibrated 10 to 1000 mg/L)
Interfering ions: K, Na, Mg2+, Ca2+
pH range: 4 to 8.5 (no pH compensation)
Temperature range: 4 – 40°C (no temperature compensation)
Electrode slope: 54 ±5 mV
Electrode resistance: 1–4 MΩ
Immersion minimum: 2 mm (without the protective cap)
Body diameter: see different sensors
1
Mini ION Ammonium
ISE Ammonium meter + pH
The imacimus kit analysis system allows the direct measurement of the exact concentration of ammonium, thus giving rise to rapid analysis and greater reliability.

1
Single probe Ammonium
2
Single ION pH

3
Ammonium meter
4
USB cable
5
NT Sensors software
Single Ion: Ammonium electrode
The most classic look-like ion selective electrode, with innovative replaceable tip and probe holder for several tip sensors. Discover this electrode, one body, multiple sensor tips.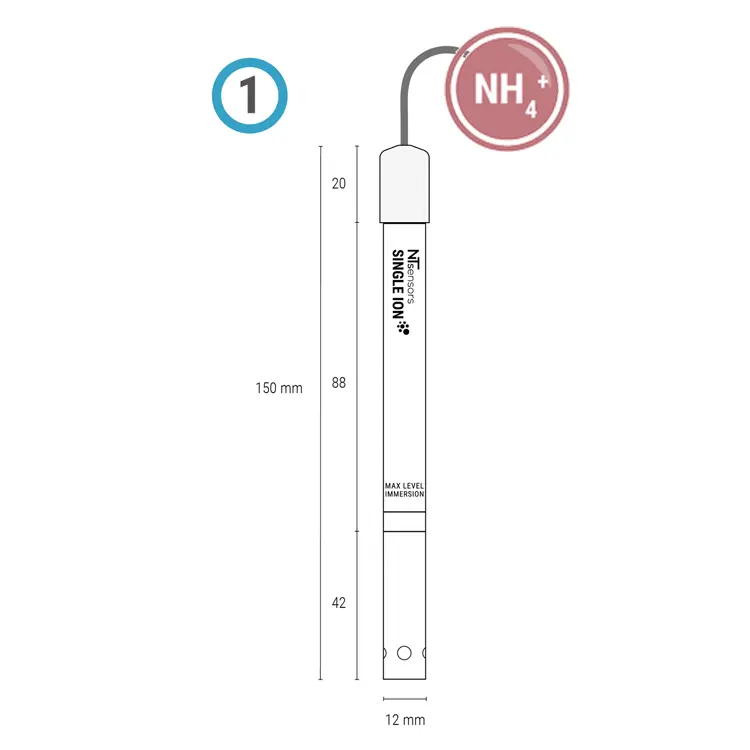 REF: S018
Diameter: 12 mm
Conector type:
– BNC (standard)
– USB (imacimus meter)
Minimum sample volume: 5 ml

PDF information about Single Ion