Ammonium Ion Selective Electrode (ISE)
Use ammonium ion selective electrode (ISE) to measure the NH4+ ion in aqueous solutions.
If you're in need of a reliable and accurate way to measure ammonium ion concentrations in aqueous solutions, look no further than our ammonium ion selective electrode (ISE). Our team of experts has developed this electrode with high selectivity towards NH4+ ions, making it the perfect solution for a variety of applications where ammonium ions levels need to be determined quickly and accurately.
With a rapid response time and Nernstian sensitivity, our ammonium ISE provides reliable and precise results every time. It's also designed for easy and convenient use, with dry-storage and only small sample volumes required.
At our company, we pride ourselves on delivering top-quality electrochemical sensors and instruments to meet the needs of our customers. Our ammonium ISE is just one example of our commitment to innovation, accuracy, and reliability.
So if you're ready to take your ammonium ion measurements to the next level, contact us today to learn more about our ammonia ion selective electrode and how it can benefit your specific application. Trust the experts at our company for all your electrochemical sensor needs.
SPECIFICATIONS
Range (concentration): 0,09 to 9000 mg/L  / 5×10-6 to 0,5 (mol/L)
Reproducibility (precision): ±10% of full scale (calibrated 10 to 1000 mg/L)
Interfering ions: K, Na, Mg2+, Ca2+
pH range: 4 to 8.5 (no pH compensation)
Temperature range: 4 – 40°C (no temperature compensation)
Electrode slope: 54 ±5 mV
Electrode resistance: 1–4 MΩ
Immersion minimum: 2 mm (without the protective cap)
Body diameter: see different sensors
1
Mini ION Ammonium
ISE Ammonium meter + pH
The imacimus kit analysis system allows the direct measurement of the exact concentration of ammonium, thus giving rise to rapid analysis and greater reliability.
Single Ion: Ammonium electrode
The most classic look-like ion selective electrode, with innovative replaceable tip and probe holder for several tip sensors. Discover this electrode, one body, multiple sensor tips.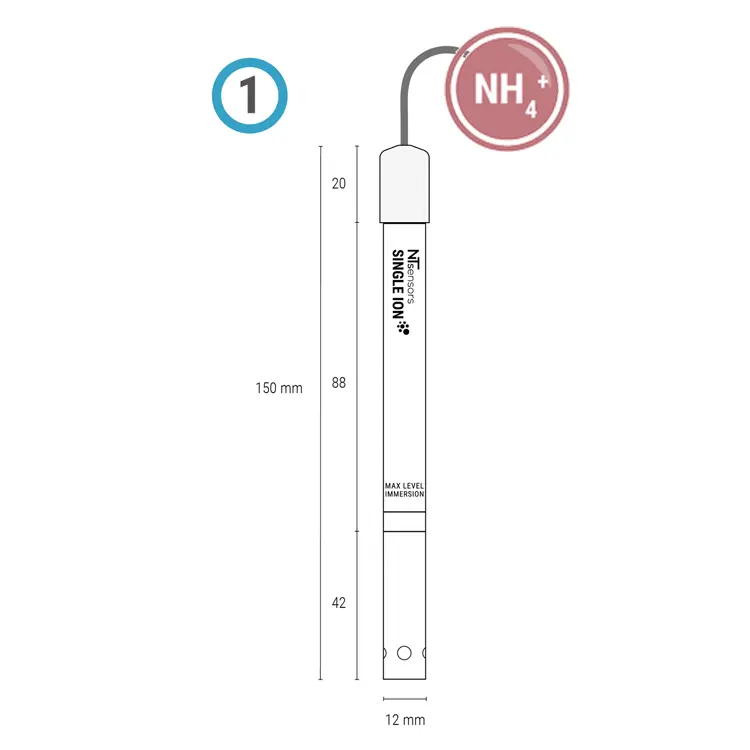 REF: S018
Diameter: 12 mm
Conector type:
– BNC (standard)
– USB (imacimus meter)
Minimum sample volume: 5 ml

PDF information about Single Ion